Newfoundland's Favourite Pirate! Mike Sixonate

***Happy Hour Prices All night if you Dress like a Pirate***
WE HAVE COOKIES

Come Pick Up Some Girl Guides Thin Mints at the BVB!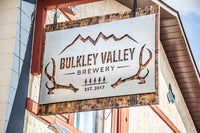 Bulkley Valley Brewery
is the first brewery in Smithers since 2013, finally filling a hole in our hearts.  Funny enough, BVB started as a SKI Shop.  In 2010 Dave moved to Smithers and started Dawn 2 Dusk a solar powered gear store focused on human powered sport.  It was hard to meet people when you worked so much, so Dave put word out that anytime after 4pm bring beer to the shop and just hang out.  With no other places in the small town to just sit, talk and drink with friends, it really became a thing.  Friday and Saturday nights it was not unusual to see 20 - 30 people in the ski shop sharing laughs and drinks late into the night.  It became the gathering place...and the idea of a brewery in Smithers was born.   Finally on March 17th 2018 Bulkley Valley Brewery opened it's doors. 
More About Us
SIgn Up for Our Newsletter